Marine & Charter Solutions
Royal Garage,
Abersoch Pwllheli, LL53 7AH
Tel:+44 (0)1758 713434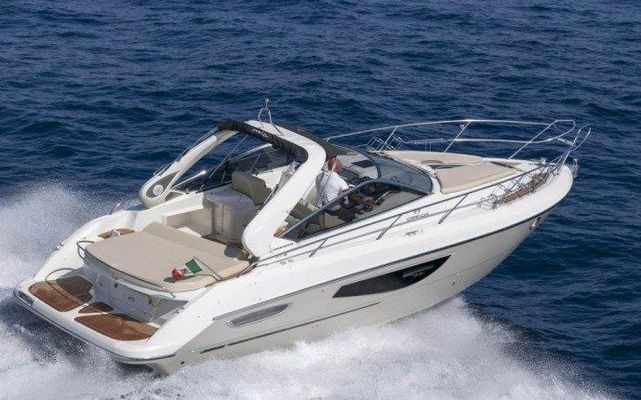 2017 Cranchi Endurance 33
Designed to be low, sleek and fast.
The deck layout is open and practical.
Engine Options
Gasoline Volvo Penta 2xV8-350-CE/G (5.3) DPS (2x350 HP) (2x258kW) catalysed Diesel Volvo Penta 2xD4 EVC/E/DPH (2x300 HP) (2x221kW)
Specifications
Length - overall approx.
10,25 m
33 ft 6 in
Length - waterline approx.
7,50 m
24 ft 6 in
Beam - max approx.
3,50 m
11 ft 5 in
Beam - hull approx.
3,46 m
11 ft 4 in
Height above waterline (incl. radar) approx.
3,30 m
10 ft 9 in
Draft (incl. props) approx.
0,96 m
3 ft 1 in
Dry weight approx.
Passengers
8 / 720 kg
8 / 1.587 lb
Fuel capacity approx.
530 l
117 UK gals 140 US gals
Fresh-water capacity approx.
120 l
26 UK gals 32 US gals
Hull
Aldo Cranchi
Aldo Cranchi
Project:
Centro Studi Ricerche Cranchi
Cranchi Research Development Dept.
Design category
B
B
Standard Features
Water distribution system directly from the dock
Roll-up foldaway hose
Grey water: shower collection system
Acoustic and visual alarm for water in the bilge
Bruce anchor 10 kg
Electric servo-assisted engine room hatch
Engine/on-board service batteries nº 2
Electric boiler 25 l
Magnetic compass
Automatic battery charger 25 Ah
50 m - 8 mm chain
Antiflame blanket
Cockpit shower
Fire extinguisher: nº 2 automatic in engine room + n° 1 manual in the cockpit
Cabin fridge 65 l
Electric system 12V/DC 230V/AC
Rudder angle indicator
Boat hook
Water pump
Stainless steel bow fender holder
Shore power 32 Ah with cable
Radio stereo/CD in saloon with control on helm
Power steering and electronic engine control - petrol version
Hydraulic cockpit table disappearing into floor
Teak laid part of the cockpit
Hydraulic steering and electronic engines controls diesel version
Electric winch 700 W
Electric marine WC
Mosquito nets and blind on hatch
Mosquito nets on portholes
Performance
TECHNICAL DATA
Length - overall
33 ft 6 in
Length - hull
32 ft 7 in
Waterline - length
24 ft 6 in
Beam
11 ft 5 in
Dry Displacement
People capacity
8 - 720 Kg.
8 - 1587lb
N° of berths
2+2
2+2
Fuel capacity
530 l
UK gal 117
US gal 140
Water capacity
120 l
UK gal 26
US gal 32
TEST CONDITION
PLACE
Marine Test Center S.Giorgio di Nogaro(UD)
ENGINE
V Penta 2 x D4 - EVC/EC DP-H / V Penta 2 x 5.7 GXI EVC/EC DP-S
POWER
2 x 260 HP ( 2 x 191 Kw) / 2 x 320 HP ( 2 x 239 Kw)
REDUCTION RATIO
PROPELLER
G5 / F4 - FH4
PEOPLE
3 / 2
FUEL
400 Lt. - 88 UK gal - 105 US gal / 200 Lt. - 44 UK gal - 53 US gal
WATER
120 Lt. - 26 UK gal - 32 US gal / 120 Lt. - 26 UK gal - 32 US gal